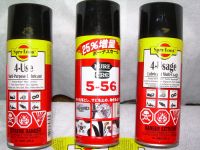 In the pic above it is the can on the left or right.
This stuff is awesome and I can't believe it was $.79!
It works better than a lot of lubricants, maybe even better than WD40.
I used it to fix my locks in the Impreza from freezing during the cold, the locks have been perfect and haven't frozen ever since. It even fixed the stubborn lock in the front door of the house
The other amazing thing is that I have a lot of grayish/black crap that looks like it was bonded to the paint inside the door jams and engine bay of the Impreza and this spray took most of it off (I just need to spray and wipe down a few more times).
*Be sure not to spray this inside the engine bay (I have no idea what it might do)*


Spraying it inside the door jams and on the inside of the doors has taken most of this crap off. You just need a rag to wash all the lubricant and gunk off. Waxing several times and hard washing did nothing do the gunk but this lubricant took it all off. After 2 spray downs most of the crap is gone.
Keep in mind the crap it's been taken off has been bonded to the paint for more than 10 years probably.
I know it's just lubricant, but who knew it would work so well for the price I paid?
It also says it protects against rust, repels rust and loosens stuck bolts. This is a great thing to spray inside the metal areas of your trunk to protect against rust IMHO or on other metal services that you wouldn't normally touch but need to be protected.